SPACE-QUALIFIED SWITCH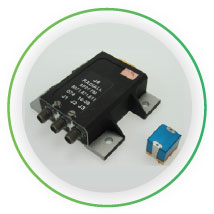 At Radiall, Simplification is our Innovation.
SELECTOR is a consortium of four companies in the space industry: Radiall, Thales Alenia Space (TAS), Universitat Politècnica de València (UPV) and CSEM. Their objective is to develop a new Miniature Electro-Mechanical Relay (MEMR), a high miniaturization, SMT-compatible, electro-mechanical switch for the space sector.
The new MEMR will be based off Radiall's existing Quartz product line, which will be expanded to reach the space market
TAS will design compact redundancy rings based on SMT
CSEM will be involved in the characterization and quality assurance
UPV will bring its simulation expertise to designers
MEMR can be used within reconfigurable microwave space subsystems in line with satellite evolution toward more digital satellites, which allow high-data capacity. Very High Throughput Satellite (VHTS) is the solution to decrease the cost per bit (€/Gbps) of satellite telecommunications. The satellite payload is constituted of a digital core and the digital transparent processor (DTP), which is surrounded by frequency converter units. The number of frequency converter channels in VHTS systems has increased from a few dozens of equipment to several hundred, compared to standard satellite architecture. As a result, in order to remain competitive without compromising reliability, stronger cost and mass constraints are enforced on such equipment.